Insert Text Here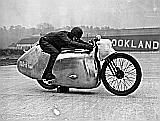 Eric C. Fernihough on his specially designed, streamlined Brough Superior motor cycle, at Brooklands racetrack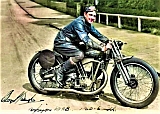 Geroge Brough at the Isle of Man 1928
SPEED IS NOTHING NEW even on a Motorcycle.
Back in the 1920s a young guy called George Brough started to build his own Specials which became known as BROUGH SUPERIORS mostly using Vee Twin Engines by J A Pearce or JAP for short, normally 1000cc
To prove a point he took his own bike to the Isle of Man just before the TT, even persuading the official Time Keepers so see how fast his Brough Superior would go over a standing mile stretch of the TTs Public Road. A BARE RIGID FRAMED MOTORCYCLE, WITHOUT BRAKES, NO HELMET, ONLY GOGGLES...........
He just did the one run with an average speed of just over 130 MPH in 1928, ......
Just try doing the same today on a rigid boneshaker like he did with buildings on both sides of a Public Road !
JA Prestwich Industries (JAP), was an English manufacturing company named after founder John Alfred Prestwich.
From 1904 to 1908 complete motorcycles were produced from the development of the first overhead valve motorcycle engine to be produced in the UK.
After that the factory concentrated on supplying its engines to other manufacturers, including Brough Superior, Triumph Motorcycles, A. J. Stevens & Co. Ltd, Enfield Cycle Co, Hazlewoods Limited, Zenith Motorcycles, and HRD Motorcycles, the forerunner of Vincent Motorcycles.
Machines that incorporated its engines included the AJS Model D, fabricated for the Russians in the First World War.
https://en.wikipedia.org/wiki/JA_Prestwich_Industries